Sign Manufacturer - Sign Crafters, Inc.
Sign manufacturer, Sign Crafters, Inc., has been creating quality signs for customers nationwide since the 1950's. At that time, we fabricated our first sign for McDonald's and we've been growing ever since. We are proud to still count McDonald's among our list of customers, along with other regional and national accounts, local small businesses and community organizations. Our satisfied sign manufacturing clients include Taco Bell, Nevco Scoreboards, Houchens Industries, Big R, FleetPride, and Jay C Foods, among others.
Sign Crafters, Inc. is a union sign manufacturer and installer. We maintain a 55,000 sq. ft. sign manufacturing facility in Evansville, Indiana, a branch office in Indianapolis, and external and internal warehouses. Our dedicated team of professionals are among the best in the business. We are always happy to answer questions about signage – from layout and design through installation.
As a leading sign manufacturer, Sign Crafters, Inc., has developed several specialty manufacturing divisions that provide the following services:
Sheet Metal Division
Aluminum or Extruded Sign Cabinets
Custom Sign Cabinets
Freestanding Pylon and Hi-rise Signs
LED Channel Letters Fabricated with Accu-Bend and Channel Bender
Plastics Division
Dimensional Formed Letters
Pan Formed Polycarbonate Faces
Pan Formed Polycarbonate Embossed Faces
Flex Facing
Paint Division
Hi-Resolution Finish Coat on Cabinets, Channel Letters and Custom Signage Projects
First Surface Vinyl on Flex Faces
Reverse Surface Paint Application on Polycarbonate Faces
Custom Vinyl
Silk Screening
In addition to being a leading sign manufacturer, Sign Crafters, Inc. has built a reputation as the "go-to company" for
sign installation
in the Midwest, including Indiana, Illinois, Kentucky, Tennessee and other central states. We partner with other sign companies to provide installation for their well-known national accounts such as Holiday Inn Express, Best Western, Comfort Inn and Suites, Payless Shoes, RSC, Dollar General, Save-A-Lot, Family Dollar, Macy's, Culver's, Dick's Sporting Goods, Kirkland's, Claire's, GNC and many others.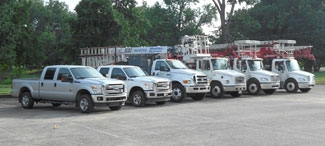 Proper installation is vital to the success of any type of sign, and should only be done by the best. All of Sign Crafter's installers are members of the IBEW. Our installation team also includes professionals with SMAW Welding Certification (AWS), NCCCO Certified Crane Operator TLL, and NCCCO Certified Rigger Signalperson. Many of our installation experts have been a part of our team for 10-35 years. With our state-of-the-art installation equipment, including boom trucks, trailers and more, we can handle any sign installation, from ground level monument signs to hi-rise signs over 100 feet.
In short, Sign Crafters, Inc. is here for all of your signage needs.
Click here
to contact us today for more information on custom sign design, manufacturing and installation.
Back to Top